1. Aaron Hernandez


Shortly after signing on for a five year contract that included $12 million in signing bonuses, Aaron Hernandez was put in handcuffs and led away to police custody. Aaron has been charged with the murder of his acquaintance Odin Lloyd. Aaron is also being looked at in connection with a double murder that took place in 2012 in Boston. While criminal proceedings are ongoing, the media and the world watches with rapt attention to see the outcome and what it will mean for Aaron Hernandez.
2. Ray Lewis
While attending a Super Bowl party in 2000, Ray Lewis, a then retired linebacker for the Baltimore Ravens, was accused of getting into a verbal and physical altercation with a couple of men who were also attending the celebration. These two men were later found stabbed to death. Suspicion fell upon Lewis after a search of his limousine and the suit that he was wearing revealed the blood of these two men. Lewis was indicted on two murder counts. However, once the case went to trial, the prosecutor dropped it. To this day, the murder of the two men is an unsolved mystery. It is alleged that Lewis paid the family members of the murdered men in order to have the case dropped. Lewis eventually served one year probation after being charged with obstruction of justice because of misleading comments Lewis gave to law enforcement officials.
3. Jim Dunaway
At 6'5" 280 pounds, Jim Dunaway was a force to be reckoned with on the field. Jim has the unique privilege of being one of the individuals who played in the 1972 undefeated Miami Dolphins team. In 1998, Jim's wife, Nonniel Dunaway was found dead in a swimming pool. The result of the autopsy showed that she had a fractured skull and was unconscious prior to being put into the half full swimming pool. Jim was the primary suspect for the murder and was later arrested. However, the grand jury felt there was not enough evidence for an indictment, so Jim walked away scot-free. However, in 2002 his children filed civil wrongful death charges against him and received damages to the order of $500,000.
4. Darrell Russell
In one of the most shocking crimes committed by an NFL player, Oakland Raider defensive tackle, Dan Russell, along with two other companions, videotaped themselves as they brutally attacked and raped a woman from Pennsylvania. This attack, which allegedly took place over the course of five hours, was alleged to have been done after the victim had been slipped a date rape drug. After police raided the home where the attack took place. they seized the videotape of the attack. Darrell was arrested and charged with a crime. However, prosecutors later dropped the case believing that the jury would not convict him. Three years after this incident, Russell died in a fatal car accident.
5. Eric Naposki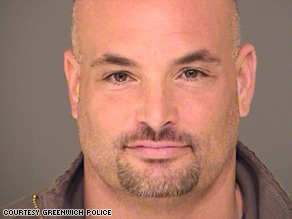 At 6'2", Eric Naposki was an imposing force on the football field. Playing for the New England Patriots between 1988 in 1997, Eric had a successful career in the NFL. However, on May 21, 2009, Eric's life changed for the worse when he was charged with a murder that took place in December 1994. Eric was charged with killing Nanette Johnston's boyfriend Bill McLaughlin so that Johnston could collect McLaughlin's life insurance policy. Naposki was convicted of the crime and sentenced to life in prison without parole on August 10, 2012.
6. Jovan Belcher
Born on July 24, 1987, Belcher was an exceptional athlete who eventually played for the Kansas City Chiefs in the NFL. On December 1, 2012, Belcher shot and killed Cassandra Perkins, the mother of his three month old daughter. After the murder, Belcher drove to visit his coach and the team's general manager. There he was quoted as saying that he 'was not able to get enough help.' Belcher then turned the gun on himself and committed suicide.
7. Rae Carruth
This Carolina Panthers wide receiver had a promising career towards the latter part of the 90's. However, all of that disappeared when he hired a friend to murder Cherica Adams, the woman who was pregnant with his child. Adams died, but the child survived. Carruth became a fugitive and was later captured hiding in the trunk of his car. He was charged with murder and received an 18 to 25 year prison sentence.
8. Robert Rozier
Rozier was only an NFL player for six games. He was let go from the St. Louis Cardinals after being suspected of drug abuse. After being let go from the team, Rozier joined a black supremacist religious group that required its members to murder white people and return their body parts to the cult's leader. Rozier admitted to murdering seven people, and he received a 10 year prison sentence after making a deal to testify against the cult leader.
9. Cecil J. P. "The Diesel" Collins
Drafted first of the fifth-round in a 1999 NFL draft, Collins appeared to have a great future ahead of him in the NFL. After playing only eight games in the 1999 season, he had 414 yards and 2 touchdowns. Sadly, on December 16, 1999, Collins broke into a home of a married woman in Florida that he had met at the gym. Admitting to the crime, Collins said he only wanted to watch her sleep. Collins was sentenced to 15 years in prison. He was released on May 1, 2013
10. Dwayne Lewis Goodrich
This cornerback for the Dallas Cowboys was involved in a hit-and-run on January 14, 2003. Two people were killed in this incident. As a result, Goodrich served eight years in prison on two counts of criminally negligent homicide. He was released from prison on October 5, 2011.
11. Thomas "Hollywood" Henderson
Playing as a linebacker from 1975 to 1980 with the Dallas Cowboys, Henderson had a career that included a visit to the Pro Bowl and 3 Super Bowl victories. Henderson was convicted of smoking cocaine with two teenage girls and exchanging drugs for consensual sex. Henderson decided to plea no contest to the charges and had eight months in a rehab center and 28 months in prison.
12. Travis Deion Henry
Henry's career includes playing in the NFL for the Tennessee Titans, the Denver Broncos, and the Buffalo Bills. On September 30, 2008, Henry was arrested in connection with a cocaine deal that took place in Colorado. On July 15, 2009, he received a three-year sentence in connection with cocaine trafficking.
13. Ryan David Leaf
Leaf's career included playing for the San Diego Chargers, the Dallas Cowboys, the Seattle Seahawks, and the Tampa Bay Buccaneers. Between March 30 and May 8 of 2013, Leaf was arrested for multiple theft and drug charges. On June 19, 2012, he received a seven-year sentence and is currently incarcerated at the Crossroads Correctional Center in Montana.
14. Orenthal James "O. J."Simpson
In one of the most televised criminal court proceedings, OJ Simpson, whose career includes playing for the Buffalo Bills and the San Francisco 49ers, was accused of kidnapping and the murder of his wife Nicole Brown Simpson and Ronald Goldman. On October 3, 1998, a jury found him not guilty of the two murders.
15. Keith Wright
Wright's NFL career includes a year played with the Tampa Bay Buccaneers. On August 29, 2012 Wright was arrested in connection with home invasions and sexual assaults that took place in Sacramento, California. On November 30, 2012 he was found guilty of 19 charges and has been sentenced to 234 years and eight months in prison.